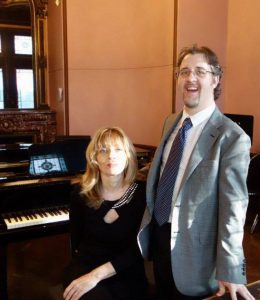 Having taught extensively throughout the world, Dr. Ivona and Dr. Chris specialize in raising talented young pianists to the level of successful performers and competitors on the national and international level. They are strong believers in their credo, "When there is talent, there is no time to waste", and focus on building impeccable, flowing, and healthy technique and consummate artistry, even at the beginner level. They are loved and cherished by their students for also being extremely devoted, caring, and fun.
Throughout the 20 years of teaching careers, this couple has studied, taught and performed in Europe, Canada, and the United States, with generations of students already living their own lives as professional musicians. Currently, the Kaminska-Bowlby teaching team direct their own academy where their students garner over 150 top prizes each year. Their students have frequent unique opportunities to play for such renown visiting international artists and are regularly invited to perform in the world's most renowned concert halls, including the Weill Hall at Carnegie Hall, Salle Cortot in Paris, among others.
Although many of their students have been highly successful, receiving top prizes in competitions, the goal of both Dr. Kaminska and Dr. Bowlby to ensure that all students have strong and healthy technique and develop love of music regardless of their future chosen career. Competition preparation must take a second seat to proper training, with a well-rounded foundation. Students are also encouraged to develop their own voice, while also being well aware of the issues of stylistic correctness. Thanks to frequent studio classes and numerous performing opportunities, their students are confident, well-rehearsed, and play with artistry and flair on such concert stages as Benaroya Hall and Carnegie Hall.
One can find their students as winners of such festival and competition as American Protege Music Competition (top prizes in 2015 and 2016), Chopin Festival of the Northwest, Outstanding Artist Competition (run by WSMTA) (all top three prizes in 2016 and many during previous years), Seattle International Piano Competition, Crescendo International Music Competition, numerous Bach, Classical and Virtuoso Festivals, and many more.
Enjoy some of the most current you tube clips from their students:
Former student, now residing in Shanghai and visiting Dr IKB for summer lessons.
Student of Dr IKB from 2010-Sept 2013.